The Most Trusted Accounting System
QuickBooks is worldwide most used enterprise resource management software and is famous for simple user interference and ease of customization.
We are certified Pro Advisor for QuickBooks and expert in QuickBooks Setup, Desired Customization & Configuration, Data Migration and Staff Training. We have already done many projects in Pakistan, UAE and Other GCC Countries both for QuickBooks Online and Desktop.
We provide both the Tax Stream, Sale Tax Version and VAT Version for QuickBooks Pro, QuickBooks Premier, QuickBooks Enterprise and QuickBooks Online.
Let our Acute Consultants understand your business needs and to suggest the best suited version for you.
Moreover, if you already have QuickBooks and not getting desired result there may be lack of full functionality understanding. Reach out to us for QuickBooks Training to get your heart desired results."
Below is the introduction of QuickBooks Desktop (QBD) and QuickBooks Online (QBO) for you to have an idea what you will be getting.
Reach out to us to make a wise selection of account software
QuickBooks provides one of the most comprehensive accounting features sets you can get without transitioning to a full ERP solution. It has different plans, depending upon your business needs, like Pro, Premier and Enterprise.
Some Feature at a glance
Invoicing
Contact management
Lead management
Expense tracking
Chart of accounts
Accounts payables
Accounts receivables
Inventory
Time tracking
Project management
Budgeting and planning
140+ reports
200+ integrations
Multi-currency support
Tax support
Automatic data backups
Automatic upgrades
Intuit Field Service Management subscription
Advanced inventory
Advanced item pricing.
Comprehensive and easily customizable report
It supports Multi Windows/Multi Screen to make your work more convenient.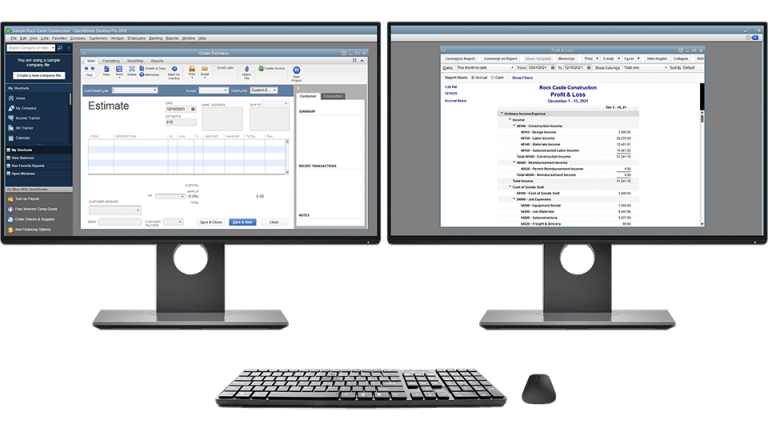 Boverview of some features
Invoicing: QuickBooks Enterprise provides ten customizable invoice templates. The templates themselves aren't anything special, but you can customize the font, colour theme, and all of the information shown. You can send invoices by email as a link or PDF, or you can print them to send in the mail. You can also batch send and batch print invoices. The Layout Designer is available for advanced customization.
Quotes: You can send quotes as well with three different templates. QuickBooks makes it easy to convert quotes into invoices, sales orders, or purchase orders, and you can create quotes directly from projects. It's easy to add attachments to quotes as well.
Contact Management: QuickBooks allows you to record detailed information, including contact information, separate shipping and billing addresses, default payment settings, credit card information, default tax settings, and some custom fields. You can also attach a specific sales representative to your customers and select a customer type (advertisement, referral, retail, etc.).
Lead Management: One of the best parts about QuickBooks Enterprise is that not only can you manage contacts and vendors, you can also manage leads (a feature which very few accounting programs offer). On top of the expected contact information, it's possible to add a status to each lead, marking them as "hot," "warm," or "cold." You can also create to-do tasks to help you seal the deal.
Expense Tracking: Enter expenses manually, opt for live bank feeds, or import your bank statements into the program. QuickBooks makes it easy to categorize your expenses and create custom bank rules.
Bank Reconciliation: You can easily reconcile bank accounts in QuickBooks. You can also close the books and password-protect them, so those past reconciliations can't be messed with.
Chart of Accounts: QuickBooks provides a completely customizable default chart of accounts, or you can create or import a brand-new chart of accounts as well.
Accounts Payable: You can manage your bills directly in QuickBooks. There is also an appealing Bill Tracker that allows you to easily view unbilled purchase orders, unpaid bills, and paid bills.
Checks: You can write and print cheques directly from QuickBooks. You can also set reminders to reorder checks. 
Inventory: One of the main selling points of QuickBooks Enterprise is how advanced the inventory feature is. You can add detailed item information, build item assemblies, and set reorder points. You can also add images to your inventory. When you add an item's price, QuickBooks will automatically show the mark-up and margin for that item. With the Platinum plan, you also get Advanced Inventory (which provides serial numbers, mobile barcode scanning, multiple inventory locations, and more) and Advanced Pricing (which allows you to adjust item pricing with ease).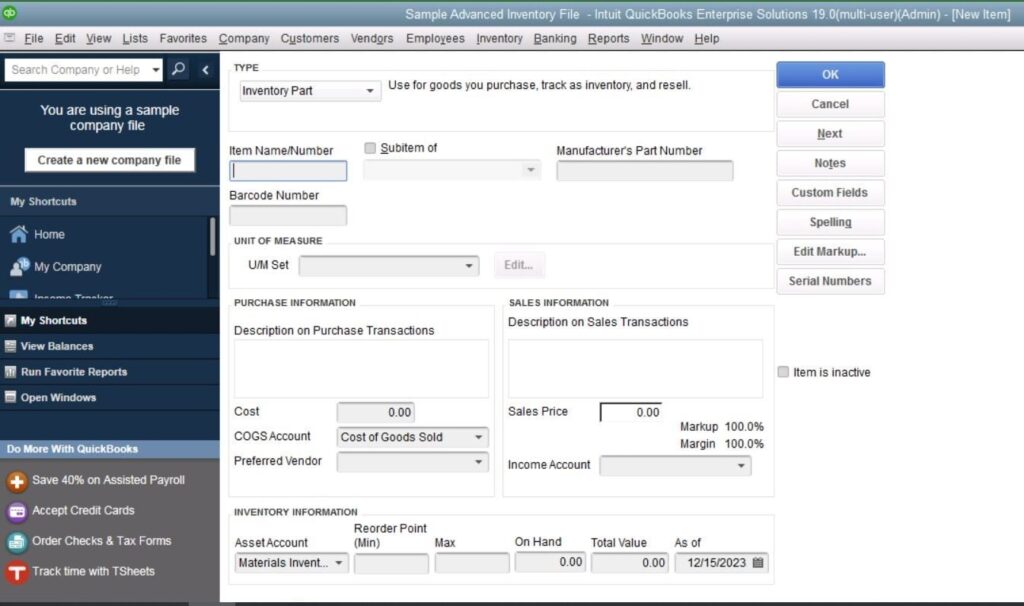 Reports: QuickBooks has over 140 reports. And if that's not enough, you can use the custom report writer to create all the reports your heart desires.
Budgeting: You can create yearly budgets using your existing QuickBooks data. Add additional criteria for a more advanced budget and run side-by-side comparisons of the budget and actual Profit and Loss or Balance Sheet.
Journal Entries: You can create journal entries if you are using the Accountant edition of QuickBooks Enterprise or if you have accountant user permissions.
Sales Orders: You can create sales orders with your choice of five different templates. You can attach files and send sales via email or traditional mail. QuickBooks Enterprise also offers a Sales Order Fulfillment Worksheet. Express pick-pack is a recent addition to QuickBooks Enterprise that allows you to pick and pack orders in a single process, which improves accuracy and increases speed.
Purchase Orders: There is a single purchase order template and a Purchase Orders Management Worksheet to help you keep track of which items you're still waiting on
Class Tracking: This unique feature lets you sort transactions, estimates, and billable hours by specific classes or departments. You can also run Profit and Loss reports based on these classes for added insight.
Default Email Templates: You can create default email templates to automate your business processes and save time.
Letter Templates: You can also create letters using one of QuickBooks Enterprise's 12 templates, or you can create a new custom template.
Cash Flow Projector: There is a cash flow projector that can help your business anticipate its cash on hand, incoming cash, accounts payable, and expenses.
Price Levels: QuickBooks Enterprise has the unique ability to create multiple custom price levels, so you can easily charge different prices to different customers.
Business Plan Tool: You can write a full business plan and five-year financial projection based on your company's information, income, and expenses. QuickBooks Business Planner walks you through every step of creating a custom business plan.
To-Do List & Calendar: One of my favourite QuickBooks features is the to-do list. You can create tasks with details, due dates, and priority levels. You can also set reminders and view them in your calendar. The calendar shows any upcoming tasks, plus the number of transactions you've entered each day, and the number that are due.
Multiple Currencies: QuickBooks Enterprise does provide multi-currency support.
Importing & Exporting: You can import and export files and list via XLS and IFF. 
QuickBooks Online or QBO, is Intuit's cloud-based accounting product. QBO was launched in 2004, and while the software was initially far less developed than the reigning QuickBooks Desktop, Intuit has made serious strides with this product and is constantly adding new features and small business services to improve their software.
Online is designed specifically for small businesses; however, the new QuickBooks Online Advanced plan makes the software scalable for larger businesses as well.
The software offers a robust feature set, strong accounting, online payroll, attractive invoices, 500+ applications integrations and easily customizable templates.
QBO is also significantly easier to learn and use than QuickBooks Desktop. Since the software is cloud-based, QBO works anywhere you have an internet connection, and there are mobile apps to help you manage your business on the go.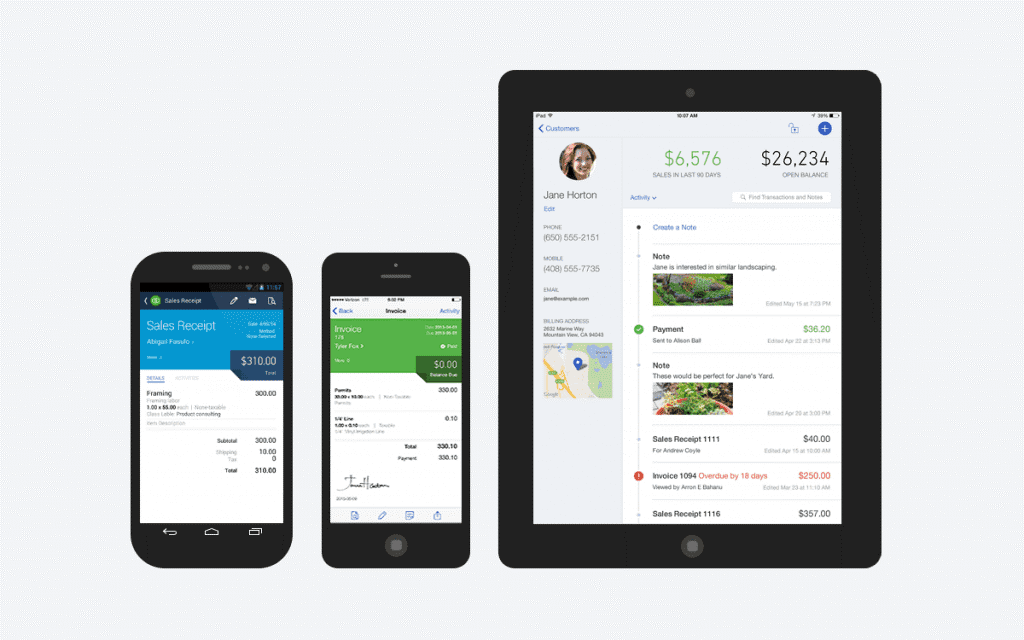 QBO comes with three different version named Simple Star, Essentials and Plus. All versions are summarized below for differences,
Although QBO has inherited the features from QuickBooks Desktop but it has an edge on Desktop at some points like cloud accessibility. The Templates Customization in QBO is much more advanced and easier than QuickBooks Desktop version. "Create invoices that turn heads and open wallets" You can design and customize templates with heart desired modern and eye-catching design. Have a look at invoice design and customization in QBO.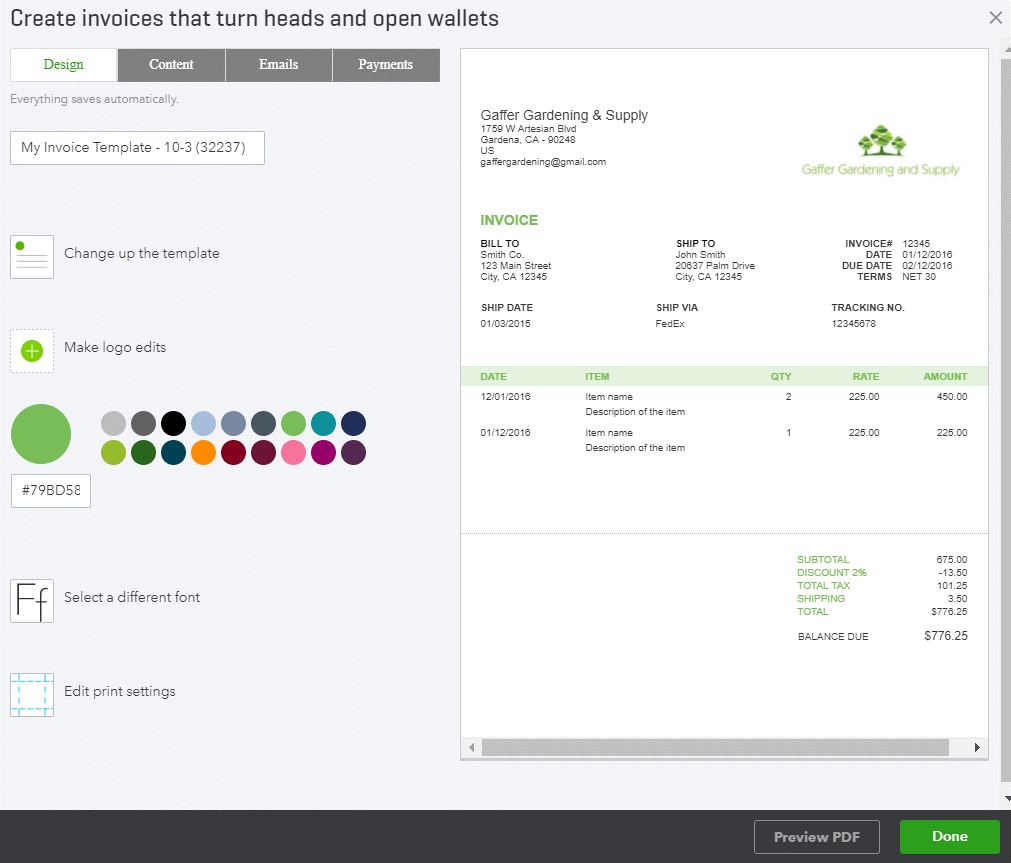 We are here to help you in setting up, data migration and trainings.